Hoo Development Framework
Ended on the 25 November 2022
3| Vision and Guiding Principles
3.1 The Four Key Principles
Hoo St Werburgh will be a sustainable rural town, sensitively integrated into the landscape and heritage of the peninsula and designed with the current best practices for sustainable and attractive neighbourhoods.
The existing settlements of Hoo St Werburgh, Chattenden and High Halstow will be enriched by new neighbourhoods providing a wide range of housing, an enhanced centre, improved and new transport links, additional shops, facilities and services to meet the daily needs of local residents and nearby communities. The emerging rural town will include green and blue infrastructure within its neighbourhoods to best integrate them with the peninsula landscape and heritage and provide extensive attractive and walkable connections in the area.
The Hoo Peninsula retains its distinctive character and contrasts - of remoteness and special places for nature, with its strategic economic and infrastructure role and thriving communities. Hoo St Werburgh and surrounding villages have grown, and residents have a choice of services and facilities, reducing the need to travel and supporting local community life. The peninsula is well connected to urban Medway through a range of travel choices. Growth around Hoo St Werburgh bringing new homes, transport services, and facilities has consolidated its role as a focus for communities on the peninsula, and provides the basis for longer term planning. The rural area has reduced its car dependency, as wider services and digital connectivity have improved. Hoo has provided new spaces for local businesses, culture and community life.
Looking forward to 2055, Hoo is anticipated to be a vibrant town, that has successfully integrated new development with its historic villages and rural setting, and is an exemplar for sustainable growth, known as Medway's green town. There is strong continuity to the past through sensitive design and development, effective interpretation, and community engagement. The Hoo Peninsula has a strategic economic profile for energy and new technologies that have responded to the requirements to address climate change and has realised the opportunities of its leading role in the Thames Estuary Corridor. There are new connections to urban Medway and further afield. Residential and commercial development has been managed to strengthen the natural environmental networks, investing in green infrastructure that secures the future of important habitats and species.
Our vision for Hoo St Werburgh is built on the main objective of creating a proud new sustainable rural town on the Hoo Peninsula, which is guided by the qualities of Garden Village principles and founded on the character and attributes of the remarkable landscape and heritage of the Hoo Peninsula.
Our vision is supported by four design principles :
Principle 1 - A landscape-led development
Principle 2 - Connected neighbourhoods
Principle 3 - Vibrant and sustainable neighbourhoods
Principle 4 - An attractive and tailored built form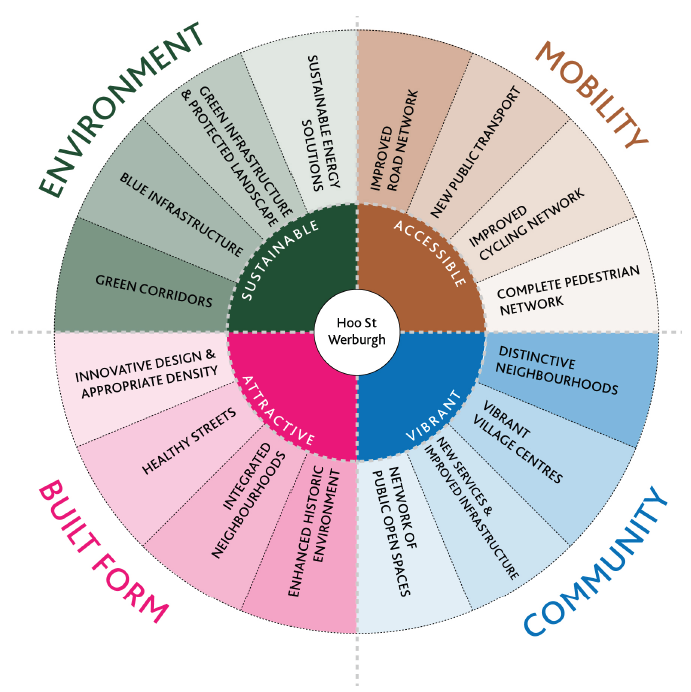 Figure 3.1 Key principles
3.2 Garden Communities Aspirations
Garden Villages Principles
Our vision for Hoo St Werburgh is guided by our in-depth analysis of the character and qualities of the original Garden Cities and Villages. We have carefully looked at how to transfer remarkable attributes from these places, and combine them with today's principles of sustainable place-making to create a distinctive 21st Century Garden Community at Hoo St Werburgh.
Originally, Garden Cities are "holistically planned new settlements which enhance the natural environment and offer high-quality affordable housing and locally accessible work in beautiful, healthy and sociable communities" (from the Town and Country Planning Association). The Garden City Principles are an indivisible and interlocking framework for their delivery, and include:
Land value capture for the benefit of the community.
Strong vision, leadership and community engagement.
Community ownership of land and long-term stewardship of assets.
Mixed-tenure homes and housing types that are genuinely affordable.
A wide range of local jobs in the Garden City within easy commuting distance of homes.
Beautifully and imaginatively designed homes with gardens, combining the best of town and country to create healthy communities, and including opportunities to grow food.
Development that enhances the natural environment, providing a comprehensive green infrastructure network and net biodiversity gains, and that uses zero-carbon and energy-positive technology to ensure climate resilience.
Strong cultural, recreational and shopping facilities in walkable, vibrant, sociable neighbourhoods.
Integrated and accessible transport systems, with walking, cycling and public transport designed to be the most attractive forms of local transport.
Garden cities and garden villages have shown a new surge in interest over the last few years.
The Garden Communities prospectus from the Ministry of Housing, Communities and Local Government (August 2018) listed the following principles as garden community qualities :
Clear identity – a distinctive local identity as a new garden community, including at its heart an attractive and functioning centre and public realm.
Sustainable scale – built at a scale which supports the necessary infrastructure to allow the community to function self-sufficiently on a day to day basis, with the capacity for future growth to meet the evolving housing and economic needs of the local area.
Well-designed places – with vibrant mixed use communities that support a range of local employment types and premises, retail opportunities, recreational and community facilities.
Great homes – offer a wide range of high quality, distinctive homes. This includes affordable housing and a mix of tenures for all stages of life.
Strong local vision and engagement – designed and executed with the engagement and involvement of the existing local community, and future residents and businesses. This should include consideration of how the natural and historic environment of the local area is reflected and respected.
Transport –integrated, forward-looking and accessible transport options that support economic prosperity and wellbeing for residents. This should include the promotion of public transport, walking, and cycling so that settlements are easy to navigate, and facilitate simple and sustainable access to jobs, education, and services.
Healthy places – designed to provide the choices and chances for all to live a healthy life, through taking a whole systems approach to key local health and wellbeing priorities and strategies.
Green space – generous, accessible, and good quality green and blue infrastructure that promotes health, wellbeing, and quality of life, and considers opportunities to deliver environmental gains such as biodiversity net gain and enhancements to natural capital.
Legacy and stewardship arrangements – should be in place for the care of community assets, infrastructure and public realm, for the benefit of the whole community.
Future proofed – designed to be resilient places that allow for changing demographics, future growth, and the impacts of climate change including flood risk and water availability, with durable landscape and building design planned for generations to come. This should include anticipation of the opportunities presented by technological change such as driverless cars and renewable energy measures.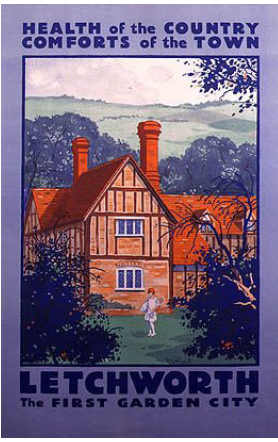 Figure 3.2 Poster from 1925 advertising Letchworth Garden City
Garden Villages Principles and Hoo St Werburgh
Our vision for Hoo St Werburgh has been translated into clear design principles based on garden communities qualities and drawing into a comprehensive design framework for the new rural town.
The new rural town identity will build on the existing qualities and features of Hoo St Werburgh and enhance its assets such as the existing centre, historic buildings and many views towards the surrounding open landscape. The new neighbourhoods will allow Hoo St Werburgh to provide additional services and amenities to the existing residents as well as the new population and sustain their day to day needs. They will be well designed places, green and pedestrian focused, providing easy access to recreational and community activities and the surrounding settlements. Healthy lifestyles will be at the core of the vision, with the Framework offering generous green spaces and an enhanced green infrastructure delivering great natural capital.
There will be a strong sense of pride and community with the integration of new and old communities. New residents will value the area's past and character and established communities will benefit from new services and facilities, and opportunities for healthier and more sustainable life styles.
3.3 Principle 1: Landscape-led Development
Regeneration has delivered success across Medway, with new opportunities for residents, boosting business and caring for the environment. Growth has been supported by investment in green and blue infrastructure, and Medway's transformation is resilient and equitable. Everyone has benefited from investment in green and blue infrastructure and nature based mitigations to climate change.
Medway has outstanding green and blue infrastructure assets. A green and blue infrastructure approach views ecological and natural assets as critical infrastructure, as important as water, power and transport. It maximises the multiple social, environmental and economic benefits which arise. The benefits of the investment in green and blue infrastructure are obvious to all, residents, as well as policy-makers. Integrated natural improvements are routinely sought by all sectors; in water management, parks management, regeneration, the economy, health, transport and tourism.
The expansion of Hoo St Werburgh will be landscape-led, preserving and improving the existing natural environment for people as well as the local wildlife. Key aspirations include providing better public access to the natural assets throughout Hoo, enhance biodiversity, protect key viewpoints and the overall landscape identity. A careful approach regarding the physical, environmental and visual impact must be key priorities for any future developments across the Hoo Peninsula to ensure a more resilient and sustainable future.
A comprehensive green infrastructure network and a wide range of green spaces will maximise the protection of biodiversity and provides new activities and green routes for local communities, with net gain delivered for biodiversity and the wider environment. Green corridors will ensure an ecological and visual separation between Hoo St Werburgh and Chattenden, and between High Halstow and Hoo St Werburgh so they will retain their identity as separate communities.
Additionally, the retention of a strategic gap between Chattenden and Strood will maintain the rural character of the peninsula, strengthening and defining the natural buffer between urban and rural Medway. The green corridors will be connected by a range of pedestrian ways and cycle lanes, connecting the main destinations with the different neighbourhoods and key open spaces such as the country parks and the river front. The aim is also to enhance existing landscapes, by introducing new green links allowing accesses to key view points on the Peninsula.
The general landscape identity will be protected as any development will address the visual and environmental issues of the site first. The retention of a wooded skyline on the ridge lines and as many natural field edges as possible are key landscape principles. The creation of two country parks will provide large recreational spaces for the local population while maintaining the green character of the town.
Resilience - positive effects for human health and climate change adaptation.
Flood prevention - vegetation retains water and is an important flood prevention feature that can reduce peak discharges.
Natural buffer - help air quality regulation and noise reduction.
New development needs to be sensitive to open countryside and be integrated carefully.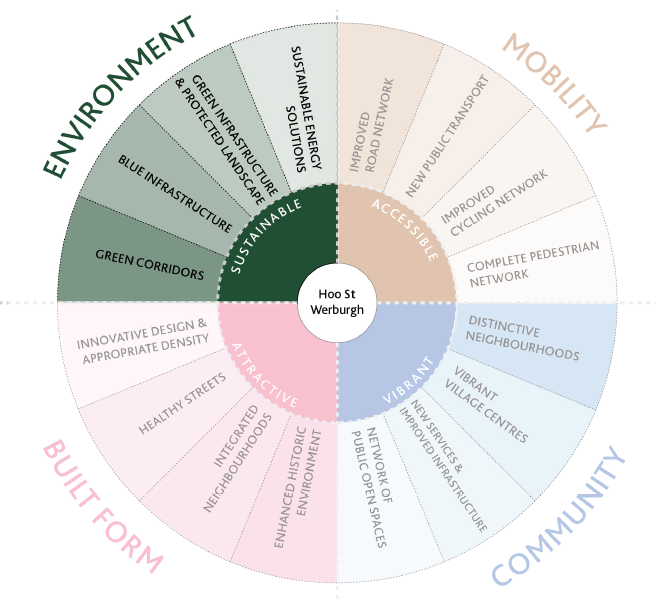 Figure 3.3 Principle 1 - Landscape-led development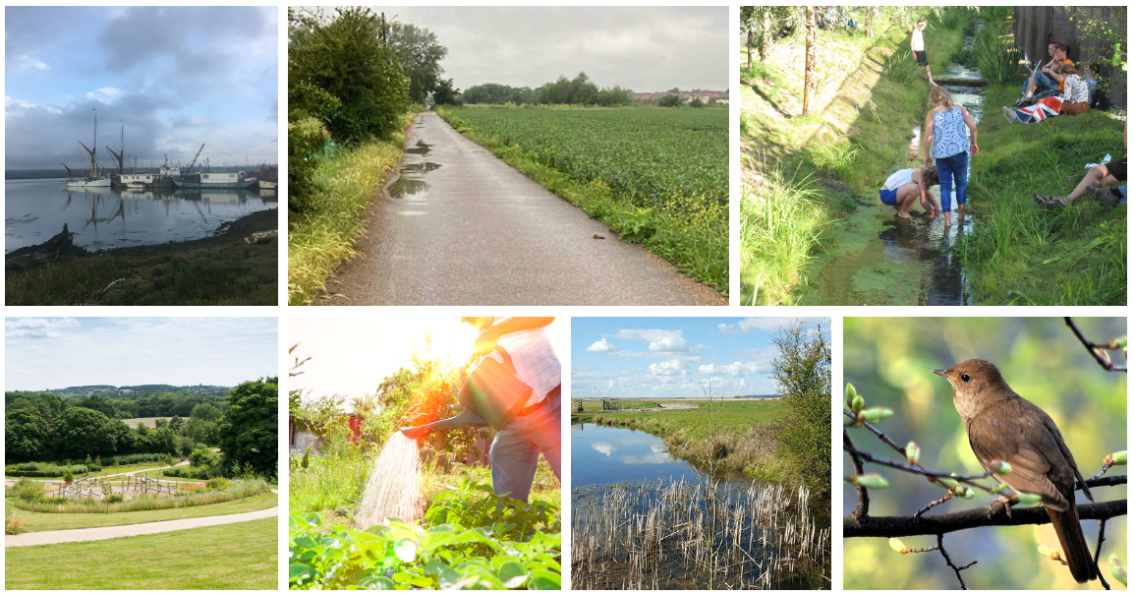 Strategic Gaps and Ecology Buffers
Strategic gap between urban Medway (Strood boundary) and rural Medway with the village of Chattenden, included within rural Medway.
Ecological corridors maintained and improved between Hoo St Werburgh and the villages of Chattenden and High Halstow.
Landscape buffers such as field edges and buffer between the SSSI and future developments will help air quality regulation, noise reduction and ensure flood prevention.
Provide an ecological buffer, as part of a wider package of strategic measures to address potential impacts from development on the Chattenden Woods and Lodge Hill SSSI.
Resilience - positive effects for human health and delivering nature based solutions to climate change adaptation.
Flood prevention - vegetation retains water and is an important flood prevention feature that can reduce peak discharges.
Natural buffer - help air quality regulation and noise reduction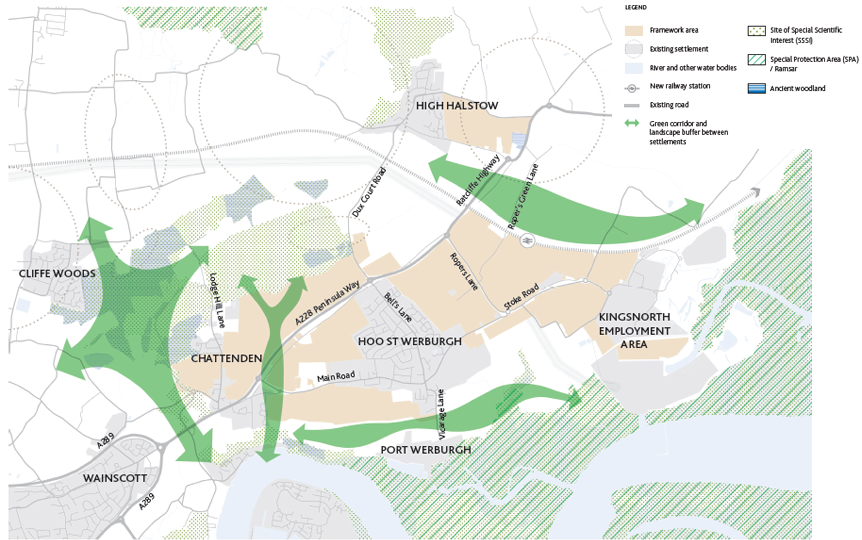 Key Green Infrastructure
The HIF SEMS programme aims to increase the areas of accessible community parkland and areas for wildlife by over 300 hectares, the equivalent of two Regents Park, in and around Hoo St Werburgh. The potential shared user bridge will link up existing footpaths and bridleways across the A228 and provide 10km of new footpaths, bridleways and cycle paths - linking the new areas for recreation.
Network of public open spaces including community parklands, neighbourhood parks and sports facilities.
Access to nature to promote physical, mental and spiritual wellbeing.
New pedestrian and cycling links between the northern and the southern parts of Hoo St Werburgh.
The potential development of residential sites north of the Peninsula Way, which are in close proximity to the nationally important Lodge Hill Site of Special Scientific Interest (SSSI), need to be planned in consideration of their impact on key species such as nightingales and bats. Therefore, factors such as cat predation, noise, light and air quality all need to be understood to manage impacts with the creation of buffers to the protected habitats and species of the SSSI and other measures such as the provision and management of cat proof fencing and the creation of ditches as wet fences or swales.
Further detailed work is needed to plan for open space requirements.
Celebrate and promote local heritage through carefully planned green infrastructure.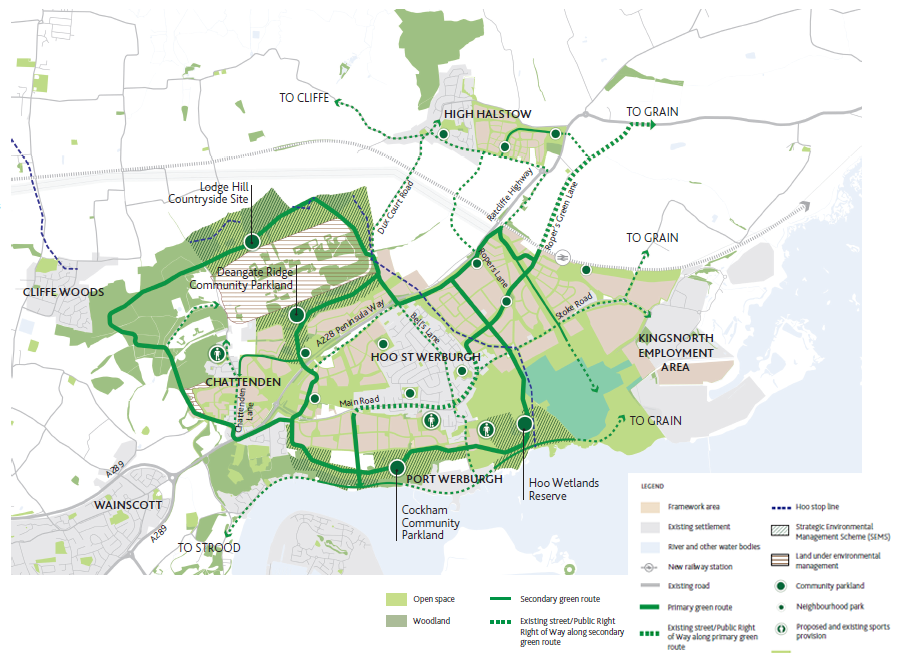 Blue Infrastructure
Better water management will provide several benefits to the landscape structure and quality around Hoo St Werburgh by improving habitat function and biodiversity and increasing recreational opportunities at the same time.
New developments in Hoo St Werburgh should ensure that the regulation of water storage and drainage is efficient to avoid any flooding issues.
60 ha of wetlands created - to the east of Vicarage Lane - recreating wetland habitats with wet meadow, reed beds, ponds and boardwalks to access the area.
Blue and green infrastructure will be used as an incremental part of the design helping to create a sense of place.
The Framework will prioritise blue infrastructure that reduces the amount of water reaching the basins and incentivise holistic drainage solutions.
The Framework should seek to enhance the setting of the land within flood zone 3 to incorporate enhanced ecological habitats, whilst also making use of design principles of sustainable drainage systems (SuDS) .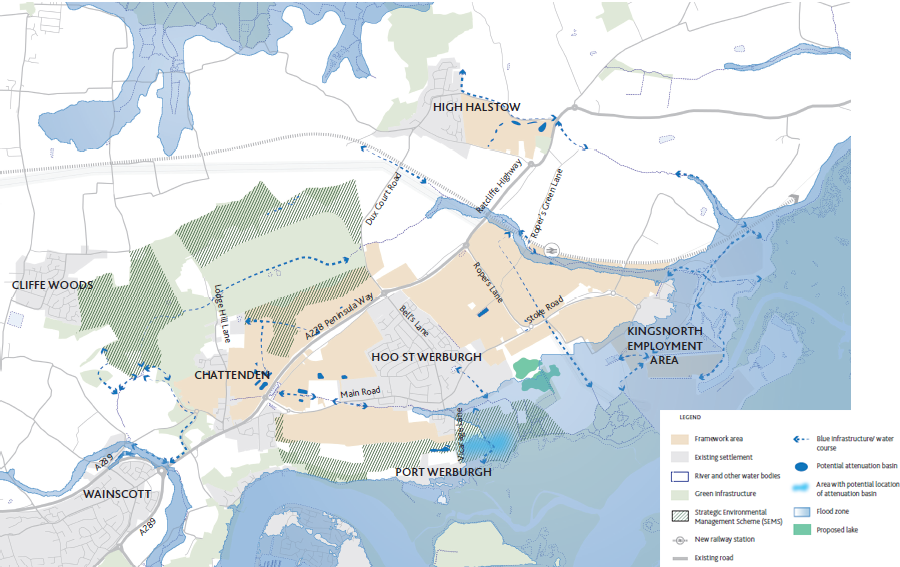 Views and Vistas
Protect key view points and create opportunity to access and enjoy new vistas.
Protect existing view points and vistas around Hoo.
Increase accessibility to view points to strengthen awareness of the local landscape identity.
Connect existing view points with new footpaths network.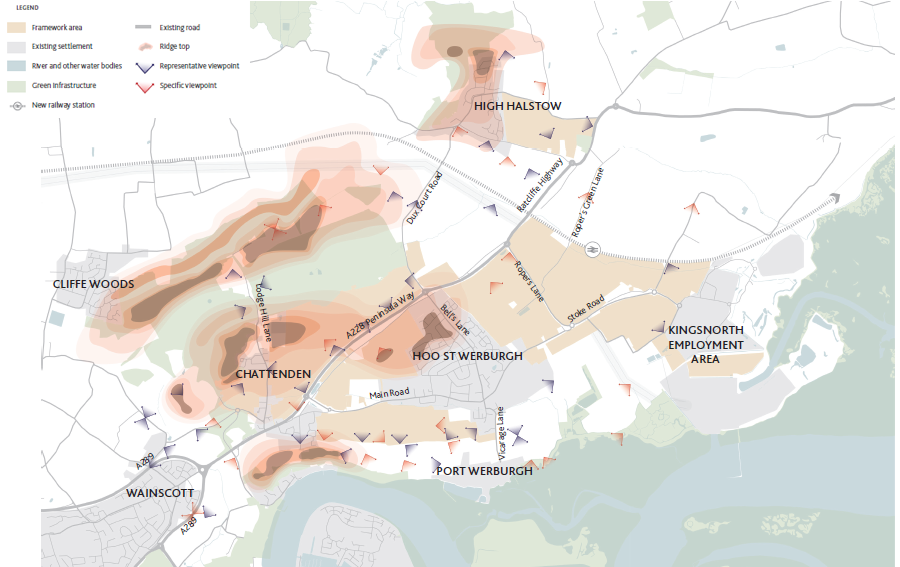 3.4 Principle 2: Accessible and well-connected settlements
Hoo St Werburgh's vision for transport focuses on improvement of the existing road network and better management of vehicular access to the rural town, as well as the creation of a coherent and efficient network of pedestrian ways and cycle lanes.
The new neighbourhoods will be designed to allow easy pedestrian and cycling movement in and around the rural town. The Framework promotes :
A road network avoiding dead ends and planned to allow easy accessibility and way finding. A series of new and improved routes will make Hoo more convenient and safer, encouraging more walking, cycling, and use of public transport than driving private cars.
Walking distances can be used to determine accessibility aims and approaches to density. There will be careful consideration of every opportunity for connections to integrate with adjacent areas, whether existing or likely to be developed in the future.
More frequent bus services on the existing routes through the Peninsula optimising transport capacity and minimising waiting times.
The introduction of new bus routes through the extended development to High Halstow and Chattenden and links between existing and new areas.
Sustainable access to key destinations and an increase in capacity to cope with significant uplift in planned development for the area.
The provision of cycle lanes and greenways, strengthening links between the neighbourhoods and towards key destinations.
New footways in existing highway in Hoo St Werburgh and decluttering existing footways.
The provision of cycle parking at key destinations within Hoo St Werburgh to supplement the provision of cycle lanes and greenways.
Potential introduction of a shared user bridge across the A228 Peninsula Way for pedestrians and cyclists so as to improve connectivity between neighbourhoods and connect the new community parklands with the existing settlement.
New growth will support an improved offer of local services and facilities, and reduce the need to travel outside of the area.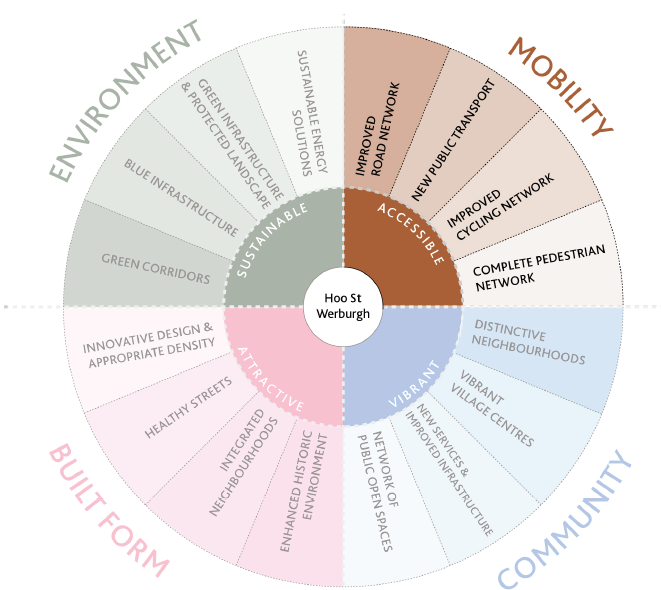 Figure 3.9 Principle 2 - Accessible and well-connected settlements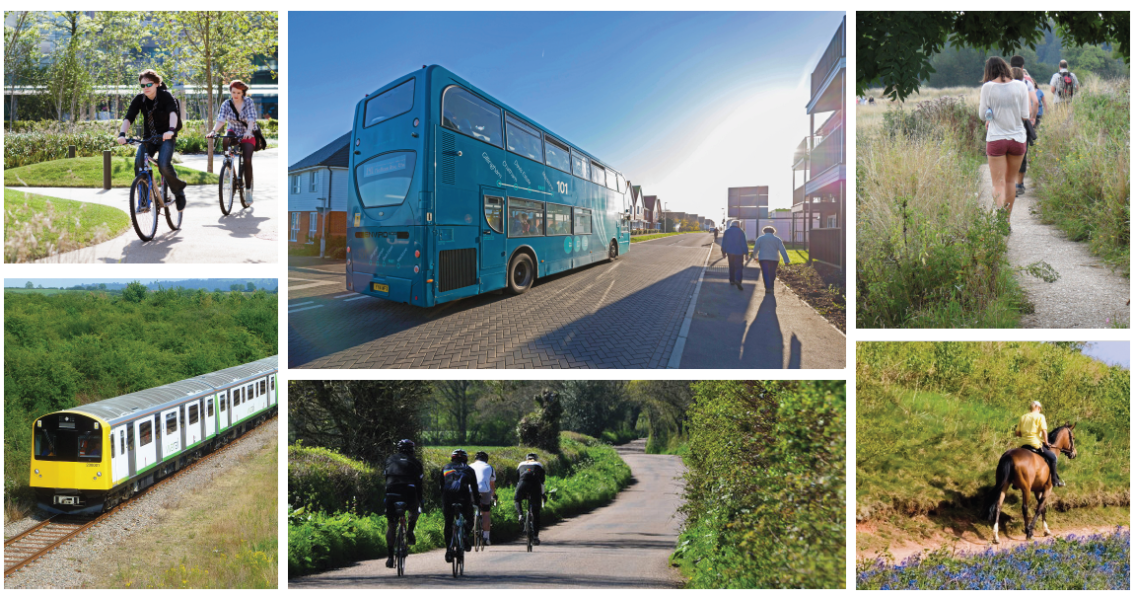 New Passenger Rail Station
A key element of the Future Hoo HIF programme is the development of a new rail station supporting passenger services towards London. The station is to be located near Sharnal Street (see plan to right). The re-introduction of passenger rail connection will improve accessibility and unlock the potential of the area adjacent to the station to accommodate a commercial hub offering a range of new services serving the Peninsula and higher density residential development. This will help to provide sustainable transport choice, and a profile for Hoo to attract wider investment.
Furthermore, the station will include for integrated transport services, with buses, cycle routes and a car park allowing for mixed-mode commuting.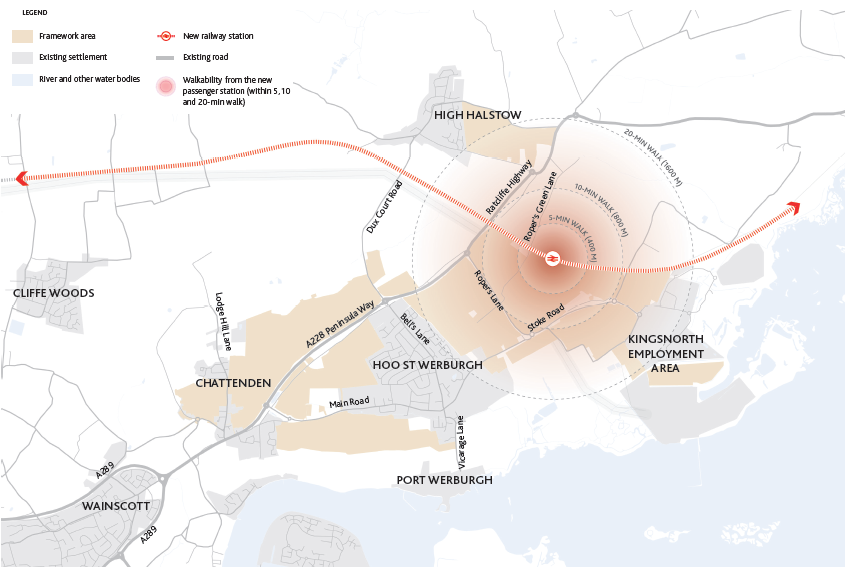 Improved Road Network
The road network is planned as a grid to disperse traffic and provide a choice of routes. This enables traffic management to respond to conditions as they change over time and accommodates wider modes of transport - bus, cycling and walking.
A distinct street hierarchy coupled with natural traffic calming measures will help to ensure that through traffic stays on Peninsula Way with only local traffic using local streets.
Public Transport Network
The overall strategy is to provide more frequent bus services on the existing routes through the existing settlements and plan for two public transport routes connecting the extended village to the wider Peninsula and Rochester, Gillingham and Chatham. The proposed new bus connections are highly indicative.
The bus system is to be developed under the parameters outlined below:
Offer connectivity to as many of the key destinations as possible.
Maximum bus accessibility throughout the new development.
Transport networks to have a high level of prioritisation for public transport to enhance the attractiveness of the offer.
Can be embedded in the new development area, whilst integrating with and serving existing communities.
Expand demand responsive services.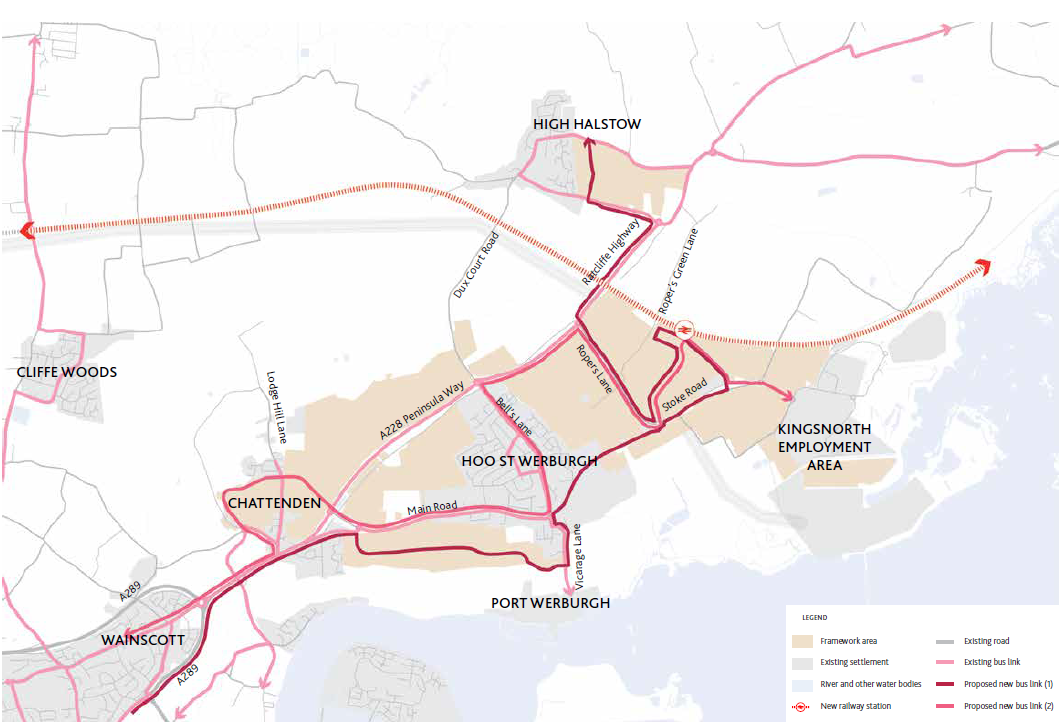 Pedestrian and Cycling Connectivity 
Vision for growth putting people before cars; planned development making space for walking and cycling at the top of the transport hierarchy.
Supporting healthier lifestyles, sustainable development - addressing climate change and strengthening the role of Hoo as service centre - supporting greater use of local services and facilities.
Providing links to the countryside and strengthening the link between High Halstow and Hoo.
Incorporating traffic free walking and cycling routes internal to the development sites and cycling connections to schools.
Providing new footways in existing highway verges where currently deficient in Hoo St Werburgh and declutter existing footways.
Providing cycle parking at key destinations within Hoo St Werburgh to supplement the provision of cycle lanes and greenways.
Exploring opportunities for a shared user bridge for pedestrians and cyclists across the A228 Peninsula Way so as to improve connectivity and connect the community parklands.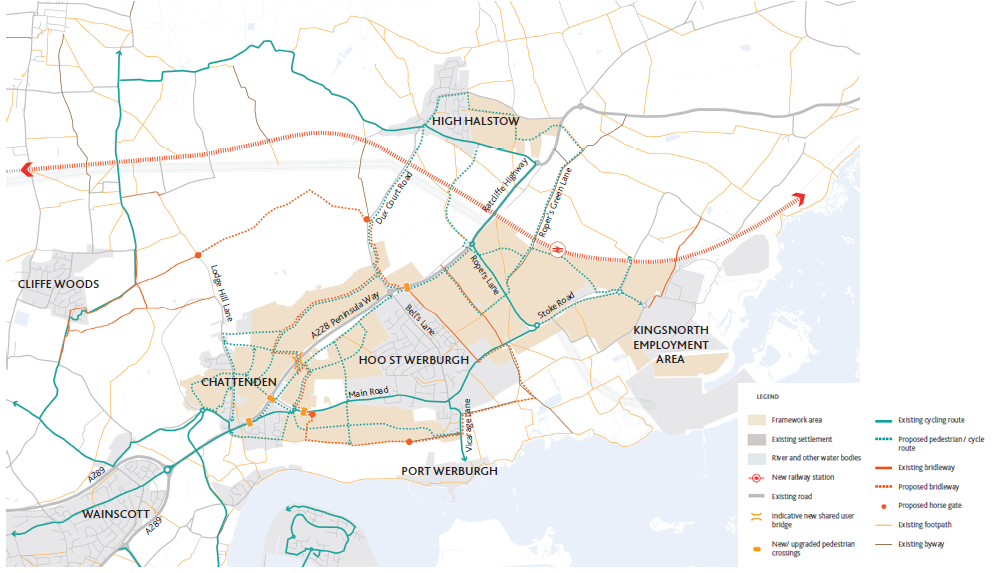 3.5 Principle 3: Vibrant and Sustainable Neighbourhoods
Bringing together the best of the town and country, Hoo will be a focus for services, jobs and community life.The future aspirations for the Hoo Peninsula are for a vibrant and sustainable place where people can live, work and socialise locally. The Hoo Peninsula will accommodate a wide range of essential services and facilities for the local residents without further need to travel far to access them. As a rural town, Hoo will have a much expanded offer to serve its residents and the wider peninsula. New walkable neighbourhoods clustered around the existing villages will be well-connected through a comprehensive pedestrian friendly green infrastructure network and improved public transport system.
The new passenger rail station will anchor a primary centre for new businesses to flourish. The re-introduction of the railway connections for passengers to improve access to Kent and London, and unlock the potential of the adjacent land to accommodate an additional new neighbourhood in the long-term.
Every neighbourhood is to be in close reach of a community hub, offering opportunities for employment, shopping, and leisure. High-quality public spaces will also encourage and provide room for community activities.
Other key services such as health and education serving Hoo St Werburgh and the wider peninsula will be at convenient locations easily accessible by walking, cycling or public transport.
The Framework also promotes:
Community cohesion - places and services for all groups in society, including older people and children and young people - reflected in the design of the public realm and design and service offer.
Opportunities for local businesses and activities - role for independent retail and community/cultural activities.
Supporting and strengthening the role of existing village centres, but bring in new services to complement and strengthen the retail and infrastructure offer for communities, keeping pace with the growth around Hoo and nearby villages.
Sustainable energy opportunities, e.g. district heating networks.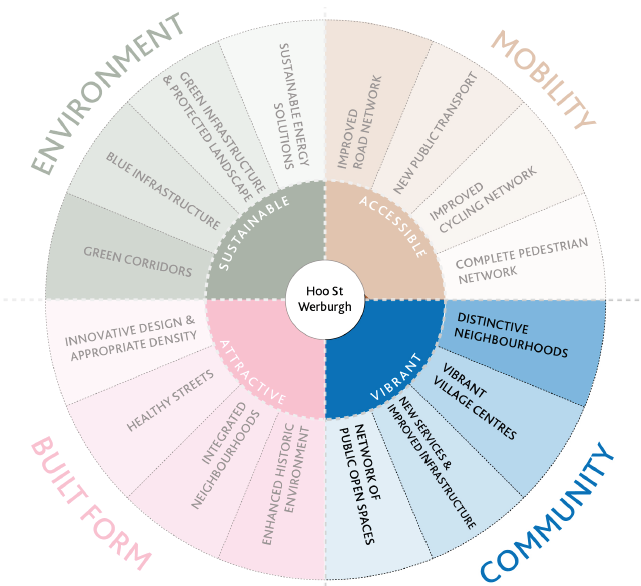 Figure 3.15 Principle 3 - Vibrant and sustainable neighbourhoods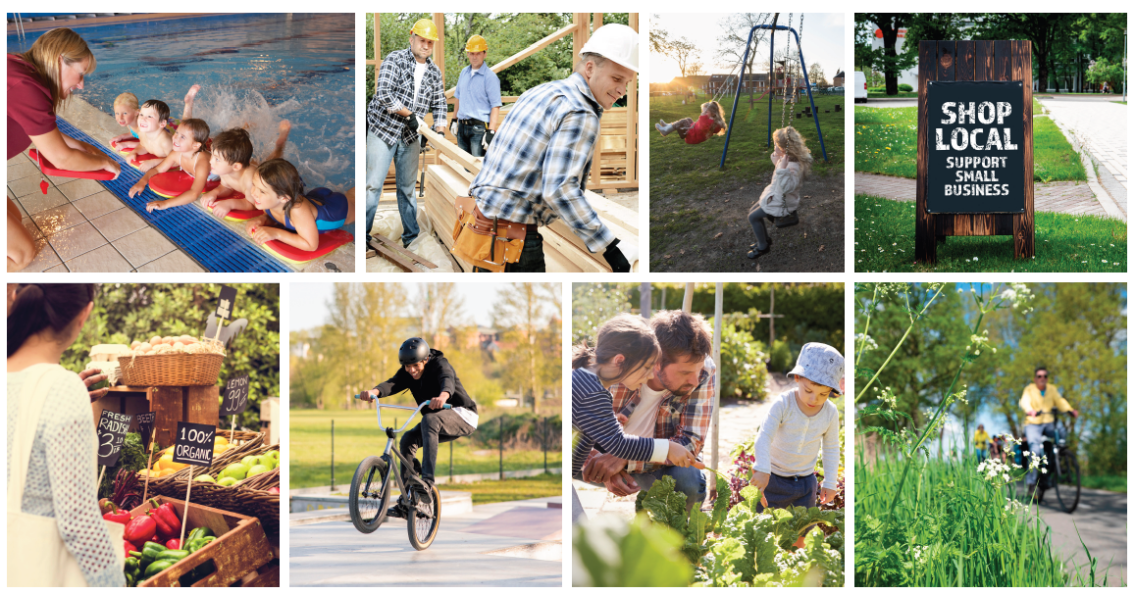 Distinct Neighbourhoods and Villages
The Framework reflects upon the history and character of the existing villages, and recognises that new development needs to be planned carefully to respect the established identities of places much valued by local communities.
Growth will be directed to specific areas, planned at a village or neighbourhood level, with connections and separations between places sensitively planned. The creation of distinct neighbourhood areas will have the following aims:
Character areas that work with the landscape setting and context and reflect the area's heritage.
Create a sense of place.
Range of styles matching landscape features and location within the rural town.
The use of appropriate mixed-use design will be crucial for neighbourhood centres and the new centre at the proposed railway station to thrive.
A centre in each neighbourhood will complement the uses of existing centres in Hoo St Werburgh and High Halstow and ensure better services provision for the existing communities and new residents.
New centre in the East of Hoo St Werburgh with the larger foodstore and further retail provision in the ground floors of the development in this cluster - new hub serving local communities and wider peninsula.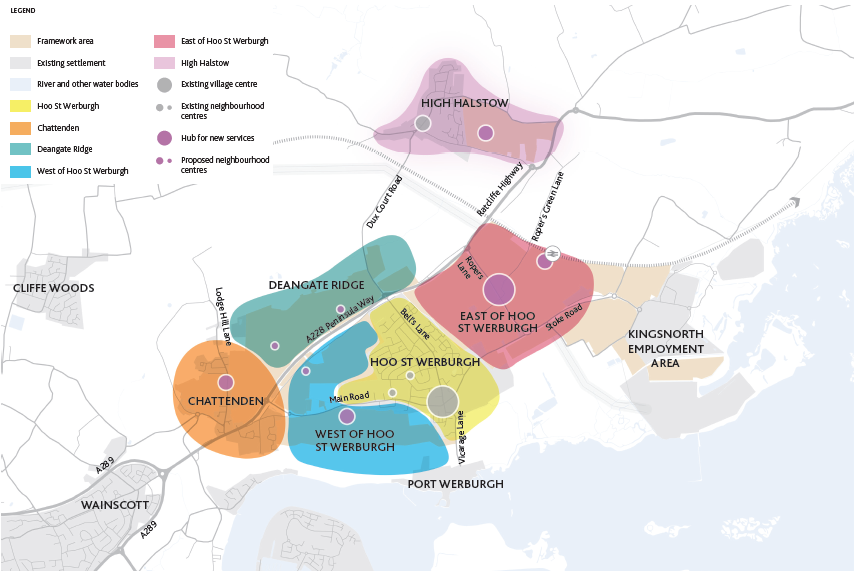 Key Services and Facilities
The vision for the Framework area includes provision of a range of services and facilities that reflects the needs arising from the scale and location of growth proposed in this framework.
Key components include:
Centre and commercial street level development that is future proofed with ground floor design to easily adapt to diversity of commercial uses.
An improved Walter Brice Centre.
A Healthy Living Centre providing a range of health services.
A sports facility
Community spaces for indoor and outdoor activities.
Enhanced provision of education facilities: two new 2-form entry primary schools and a new 8-form entry secondary school, together with the expansion and possible relocation of Chattenden Primary School by 1-form entry and High Halstow Primary School by 1-form entry. In addition the expansion of the primary element of Hundred of Hoo Academy by 1-form entry is underway, and a 1FE expansion at Hoo St Werburgh Primary School will also be considered.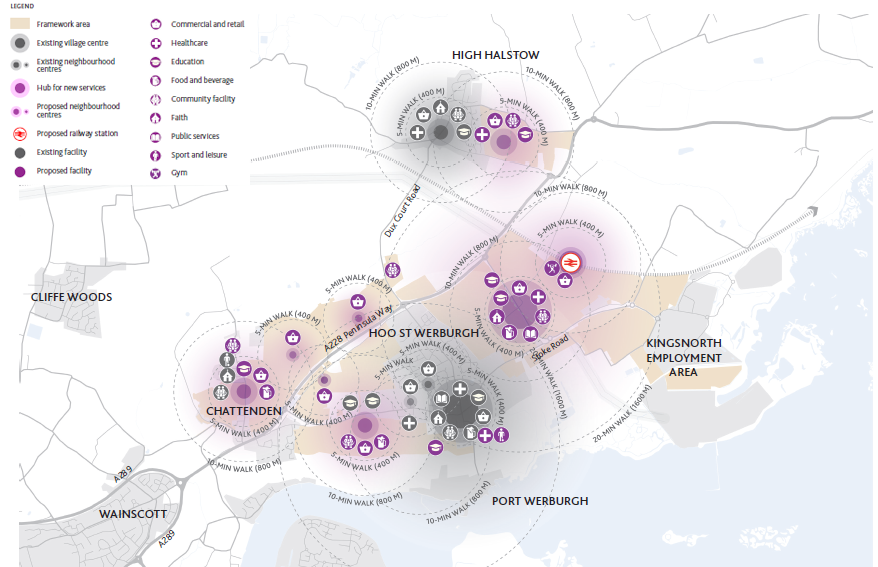 3.6 Principle 4: Attractive and Tailored Built Form
Hoo's vision to become a sustainable and desirable place to live will be delivered through a carefully considered design of homes and the overall built environment. New homes will be both attractive and inclusive. There will be a wide mix of housing types, designed to meet the needs of different sectors of the community, including families, considering the needs of young people leaving care, older people (e.g. Sheltered Housing, Extra Care, Shared Ownership for Older Persons) and people with disabilities including the provision of accessible housing for wheelchair-users/those with mobility problems.
House types are to include First Homes, Affordable/Social Rent and Shared Ownership, which should be integrated into the wider developments and indistinguishable from market housing.
The built form of Hoo's existing rural character will be preserved by a thoughtful density distribution, building height control and design. Density will be distributed according to the local character of each neighbourhood, for example, with higher density homes in close proximity to the proposed railway station and lower density homes in High Halstow. The housing typologies will, therefore, vary depending on the location. From more compact terraced homes and low rise flats to detached houses. Building heights will also be controlled with slightly taller buildings around the new passenger rail station and typically 2 to 3-storey homes for the vast majority across the Peninsula.
Innovation, creativity, use of high-quality materials and harmony with the existing neighbourhoods will be highly encouraged throughout the design process. These layers will ensure natural and gradual growth of Hoo without losing its rural identity; strengthening it through better connectivity, accessibility and the overall quality of life and will be designed to minimise impacts on the environment, and to provide sustainable buildings, including new opportunities for energy. The Framework is also promoting opportunities for custom and self-build housing, delivering quality and sustainable design. The design of the new development should ensure building design diversity, place identity, quality of design and materials, attention to street scenes (including frontages, vegetation, pavement, etc.) and innovation in design.
The below design principles should also be taken into account:
The design of sustainable drainage systems (SuDS) components to be fully integrated with landscape and amenity areas. Design to avoid a highly engineered solution and instead provide for a natural design aesthetic that encourages ecological benefits, including improved water quality and increased natural habitat for wildlife.
The design of every street in the new development to consider the use of appropriate tree planting and other vegetation, which not only provides a positive contribution to its identity, but also acts a storage of carbon and can help to tackle climate change.
All new development in the area of this Framework to be designed with appropriate front garden depth and parking placement that respects the local rural character in the areas identified for low to medium density development. Front gardens can help to limit climate change by retaining trees and plants which help soak up carbon. They also help us be more resilient in dealing with the anticipated hotter and wetter weather in the future.
Sustainable building design principles, such for example reusing/recycling materials, green walls/ roofs, greywater recycling and solar panels to be considered to help reduce carbon emissions.
The Hoo stop line is considered one of the better preserved defence features in England and it needs to be taken into account by future development. In addition many of the non-designated assets need to be given careful attention during the development planning process.
It is important to protect long views towards and from important heritage assets, such as Hoo St Werburgh Parish Church, which is Grade I listed.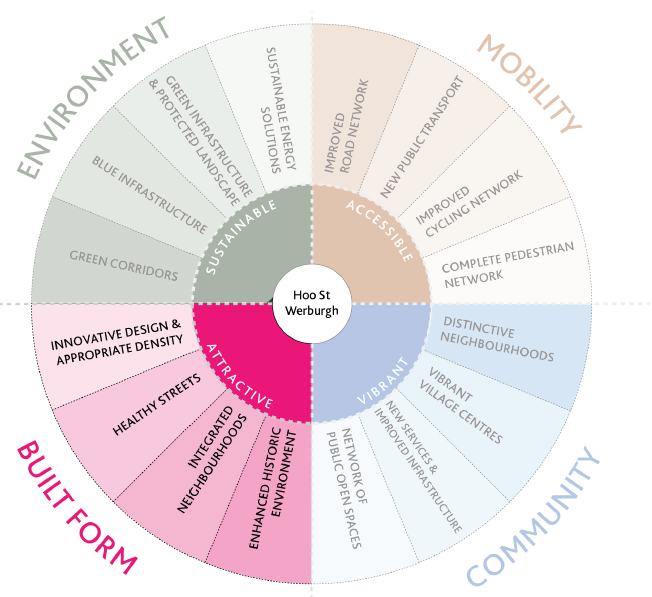 Figure 3.19 Principle 4 - Attractive and tailored built form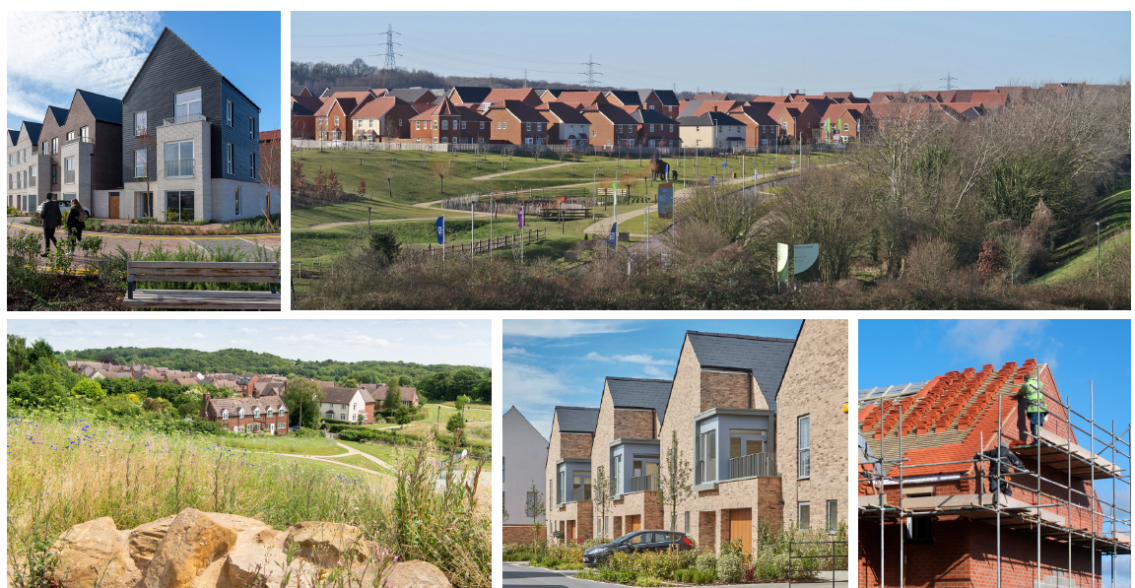 Housing Density Distribution
The principle is for low density development along the outer edges of the proposed growth area, particularly facing landscape, with the exception of the East of Hoo St Werburgh where a new mixed-use hub is proposed in proximity to the station that will serve the emerging communities in the immediate locality as well as wider peninsula. This new hub will be supported by higher density development.
Higher density next to local centre to provide footfall.
Smooth transition of density from existing settlements to new development areas.
All medium (20 to 49 dwelling units) and large (50 dwelling units or more) development to be informed by a design code based on the national model prior to approval of their outline application.
All new development placed adjacent to the green corridors between Hoo St Werburgh and Chattenden, and between High Halstow and Hoo St Werburgh:

to have distinctive landscape and architecture design when compared to developments on the other side of the corridor.
to provide amenity areas and community gathering spaces in the landscape buffer open to the corridor.
to have the properties along the edge facing the landscape buffer and corridor.
strategic green gaps described within Principle 1 are to be respected.

All development placed near the fringe of development areas and adjacent to landscape or countryside to assist in the seamless integration of natural and built components.
New developments at neighbourhood centres to be designed as mixed-use communities and provide space for people to enjoy.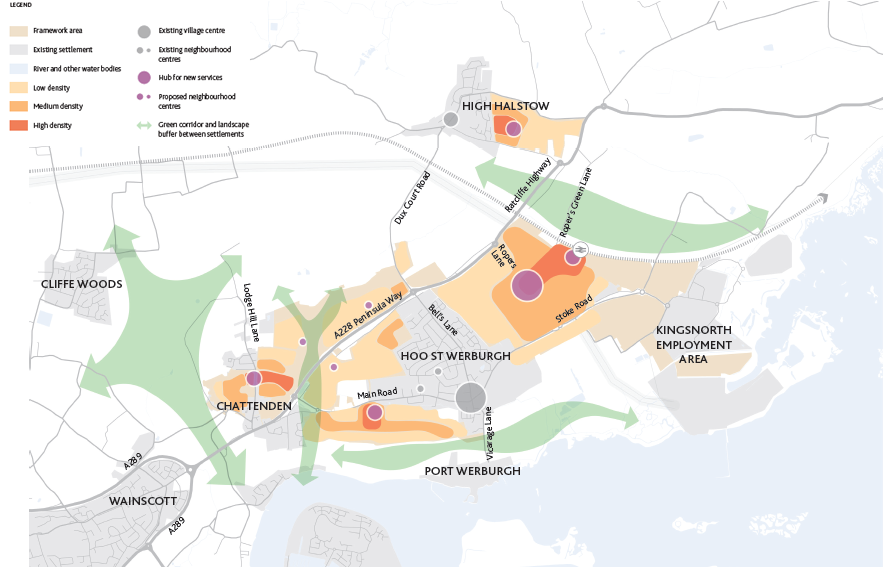 Healthy Streets
All new development placed in sites highlighted in this Framework to be designed to facilitate active modes of transport, such as walking and cycling.
Every street located in development sites considered to be a local collector or higher level of hierarchy must provide cycle lanes, cycle paths or mixed pedestrian and cycle routes.
All development to be designed to provide a diverse network of open spaces and amenity areas to serve different purposes and users.
All medium (20 to 49 dwelling units) and large (50 dwelling units or more) development to provide green space and/or amenity areas located within 5-minutes' walk from every proposed dwelling unit.
Every street in the new developments to consider the use of appropriate tree planting and other vegetation to provide a positive contribution to its identity.
Variation in street width, design and vegetation and buildings placement and scale to be used to differentiate streets and create local area types within medium (20 to 49 dwelling units) and large (50 dwelling units or more) developments.
Any street that is not a shared surface to provide safe pedestrian routes.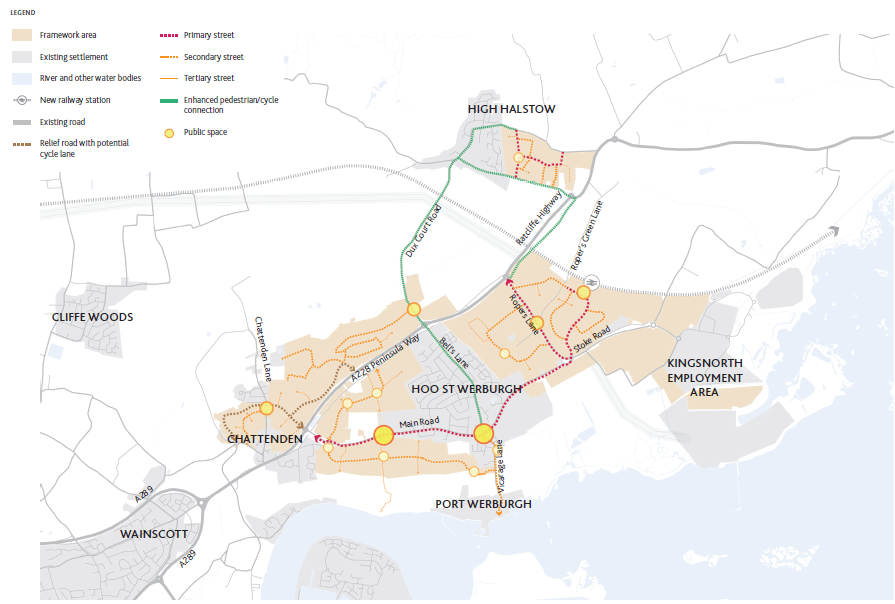 back to top
back to top